July 6, 2023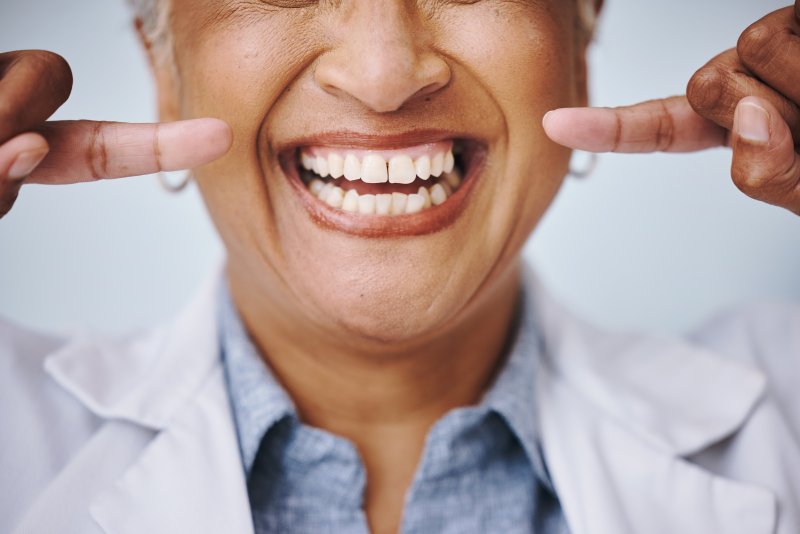 Going from a mouth full of damaged teeth to a set of pristine dentures is a process, and while it can be life-changing for people, there's usually a fair amount of work to do before you get there.
That's even more so the case if you have to get a series of tooth extractions before you get your prosthetic. If you're in that position, here's what you should know about when you can expect to get your dentures after a tooth extraction.
The Two Approaches
Typically, there are two ways a dentist will choose to go about giving patients prosthetics after a tooth extraction. They'll either give your dentures immediately after your tooth extraction or wait until the wounds have healed before giving you your dentures.
Both are valid approaches and which way you should handle the situation comes down to a mix of personal preference and your medical history.
Getting Dentures Immediately
When you receive your dentures immediately after getting your teeth extracted, the prosthetic can act like a kind of bandage that protects the extraction wounds until they've fully healed.
Typically, your dentist would recommend wearing your dentures for a full 24 hours after first receiving them, then taking them out to soak each night afterward as normal. Your gums will still be healing and shrinking after the surgery, and as a result, you'll need to spend the next few weeks making trips back to the dentist for relines.
The benefit of this method, however, is that you won't have to spend any amount of time missing teeth. If you want to keep showing off your smile even after a tooth extraction, this may be the method for you.
Getting Dentures After Healing
The other option involves waiting until your gums have fully healed to get your prosthetic. While significant bleeding and swelling should settle down within the first two or three days, it'll typically be several months before your gums have healed enough to accommodate your new dentures.
However, healing without having to worry about dentures is much more comfortable than the alternative. If you're concerned about having to manage discomfort in the weeks after your surgery, this method may be a little bit easier for you.
About Our Practice
At Ridgefield Perfect Smile Center, we believe in putting our patient's comfort at the center of absolutely everything that we do. We believe that good dentistry should leave you not only healthier, but happier. That's why we've devoted ourselves to both immaculate dental care and premium comfort within our office.
If you have any questions about dentures, we can be reached at our website or by phone at (203) 438-8919.
Comments Off on When Can I Get My Dentures After a Tooth Extraction?
No Comments
No comments yet.
RSS feed for comments on this post.
Sorry, the comment form is closed at this time.