April 28, 2023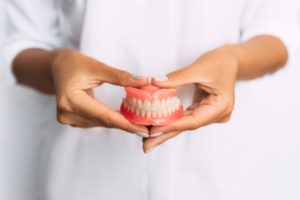 Millions of people have used dentures to complete their smiles and restore the functions that having a full set of teeth provides. They are a reliable restoration that can be counted on for many years. However, although they are custom fit to your mouth, they can eventually begin to not fit as well as they used to. This will require them to be relined but can you do this on your own or is it better to seek help from your dentist? Here's what to know.
Why Do Dentures Need to Be Relined?
To "reline" dentures simply means to reshape the underside of them so they fit more comfortably on the gums. When you first receive your restorations, they fit perfectly and snugly. They are custom fit to your mouth precisely, thanks to the impressions taken before the final mold was made. However, after many years, your jawbone begins to shrink because it is not being stimulated by tooth roots. This can cause your denture to become ill-fitting, making it more difficult to eat and speak with ease. It's best to get them relined so your smile can return to being fully functioning!
If your restoration does not get upgraded to fit your mouth better, there is an increased risk of various issues occurring, including:
Gum inflammation and irritation
Blisters, cuts, and scrapes inside the mouth
Headaches and earaches due to abnormal jaw pressure
Jawbone atrophy
Difficulty eating, which can lead to lack of nutrition or indigestion
Can You Reline Your Denture Yourself?
Modern times have made it possible to do many things on your own that used to not be possible. Between Google, Amazon, and YouTube, you can learn and order many things to "do it yourself"! So, you may be tempted to reline your dentures on your own. However, only a dental professional should be trusted with the relining process. You may cause more damage to your restoration or even your oral health, leading to more inflammation, irritation, and blisters.
How Does Denture Relining Work?
In order to improve how your dentures fit, your dentist will add a new material to the inside surface of them. The first step is usually taking a thin impression inside of your existing denture. Then the restoration is sent to the dental lab where acrylic material is used to fill in the gaps where the gums have changed. After the process is complete, your dentures will once again be custom fit for your smile!
While relines are to be expected if you wear dentures, it's best to not take the process into your hands. With the help of your dentist, your teeth will be fitting perfectly again in no time!


About the Author
Ridgefield Perfect Smile Center is eager to help you keep your restored smile in top condition through the expertise of its two dentists. Their goal is to provide high-quality dentistry with exceptional, compassionate care. With advanced training in various services, including restorative care, they can assist you with any of your denture needs, including relining. Contact them through their website or call (203) 438-8919 to schedule an appointment.
Comments Off on Can You Reline Your Dentures on Your Own?
No Comments
No comments yet.
RSS feed for comments on this post.
Sorry, the comment form is closed at this time.