December 4, 2021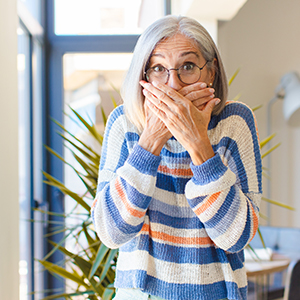 Dental implants are one of the more advanced tooth replacement options out there. They have all sorts of outstanding benefits and a success rate of more than 95 percent!
However, dental implant failures are still possible, and they do happen from time to time. Continue reading to learn from your implant dentist in Ridgefield why you might have a loose dental implant and what you should do to address the issue.
What Are Reasons My Dental Implant Is Loose?
When your dental implant feels loose, there are several potential culprits. Here are some of the most common issues:
Low-quality prosthetics: If you have prosthetics, like dentures, bridges, and crowns, that become unstable, they can cause dental implants to loosen because of the shifting and movement in the mouth.
Overloading: This occurs when dental implants are placed under too much pressure. This impacts the osseointegration process. Overloading can occur when patients receive their false teeth while their dental implants are placed, or when the dental implants are disturbed during the healing process.
Infection: Another common cause of implant failures is an infection known as periodontitis. This is a gum infection that occurs around your teeth and attacks the gum tissue. This can happen immediately after the surgery or several months or years down the road. Ultimately, this can attack the jawbone surrounding the dental implant and cause it to loosen.
Osseointegration failure: When dental implants are placed in your jawbone, the surrounding bone is expected to grow over the surface of the implant to create a physical bond. This process is known as osseointegration. However, problems can occur and prevent this from taking place.
How Should I Deal with a Loose Dental Implant?
The first thing you should do if you have a loose dental implant is to give your dentist a call. Make an emergency appointment. The quicker you're able to receive treatment, the greater of a chance that your dentist will have to restore your smile to health.
Ultimately, they can determine whether the crown has become loose or if you have an underlying issue with the implant that needs to be addressed. This way, it can be taken care of as soon as possible. In the meantime, be careful to chew on the opposite side of your mouth and avoid putting pressure on your implant.
By seeing your Ridgefield dentist ASAP, you can get to the root of the issue. This way, your smile will be back to health sooner rather than later!
About the Practice
At Ridgefield Perfect Smile Center, our dentists are ready to use their advanced training in preventive, cosmetic, and restorative dentistry to the benefit of your smile. We take the time to get to know you, and we are always here to answer your questions. More than 70 percent of our new patients come from referrals, so we are confident that we will be able to provide treatment that meets your satisfaction. If your dental implant is loose, or maybe you are interested in getting dental implants, we are ready to help you regardless. Make an appointment as soon as you can, or schedule a consultation about new implants, via our website or by calling (203) 438-8919.
Comments Off on What Should I Do If I Have a Loose Dental Implant?
No Comments
No comments yet.
RSS feed for comments on this post.
Sorry, the comment form is closed at this time.