October 22, 2021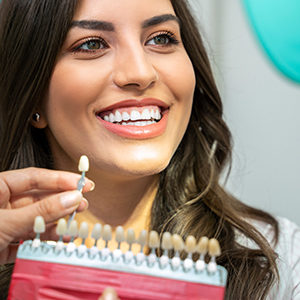 A dental crown is the single most widely performed restorative treatment in the U.S. The versatility of a crown makes it an excellent option to restore the health, function, and appearance of a tooth. When envisioning the cap, you might see a dark blemish; however, modern restorations look just like real teeth. Your crown is custom-made to match the color of your enamel to blend in with your smile. This requires art and skill to ensure a seamless transition. Here's how your dentist finds the precise color to enhance your smile.
What is a Dental Crown?
A dental crown is a cap that's placed over the entire surface of a tooth above the gum line. It can provide a weakened tooth with an added layer of protection to prevent future damage. However, it is most often used to repair a compromised tooth, such as from significant decay. The versatility of crowns allows them to be used along with other procedures, like root canal therapy, bridges, and dental implants.
Creating Natural-Looking Restorations
Teeth naturally come in a variety of shades and tones. As a result, the color options are limitless when designing all-ceramic crowns. Although this means your restoration can mimic the color of your teeth flawlessly, it also creates room for error.
The process of color-matching crowns is complex. Your dentist considers several factors when determining the ideal shade because your teeth aren't just one color. They are a shade, which includes:
Hue: This refers to the same thing as color. Your teeth naturally range from yellow, red, or gray.
Chroma: The saturation or intensity of the hue is known as chroma.
Value: The darkness or lightness of your shade is the value.
If you're confused, you're not alone. Thankfully, your dentist has the qualifications and technologies to find the ideal color. They'll begin with a color-matching guide, which is a little card with fake porcelain teeth ranging in shades.
They'll examine your teeth next to the shade guide under natural lighting or fluorescents that replicate natural lighting. This ensures your teeth don't look too yellow. To make it easier for your dentist to find the exact color, it's best to remove any brightly colored lipstick or other makeup. Your dentist may also recommend skipping any bright clothing because they can distort the color perception. To minimize any outside influences, they will drape you in a plain bib, which gives their eyes a neutral place to reset their rods.
Invest in Your Smile Today
You don't need to worry about a metal crown sticking out like a sore thumb. You can smile confidently with a natural-looking restoration that's customized to your exact specifications.
About Dr. Dana C. Jones
Dr. Jones earned his dental degree at the University of Buffalo School of Dental Medicine before continuing his training at many prestigious facilities, like the Dawson Center and Las Vegas Institute. He combines his qualifications and experience with the latest technologies, like CEREC crowns. You can get a high-quality restoration in one day. Contact our office today to schedule your consultation.
Comments Off on The Art Behind Color-Matching Crowns
No Comments
No comments yet.
RSS feed for comments on this post.
Sorry, the comment form is closed at this time.