November 8, 2022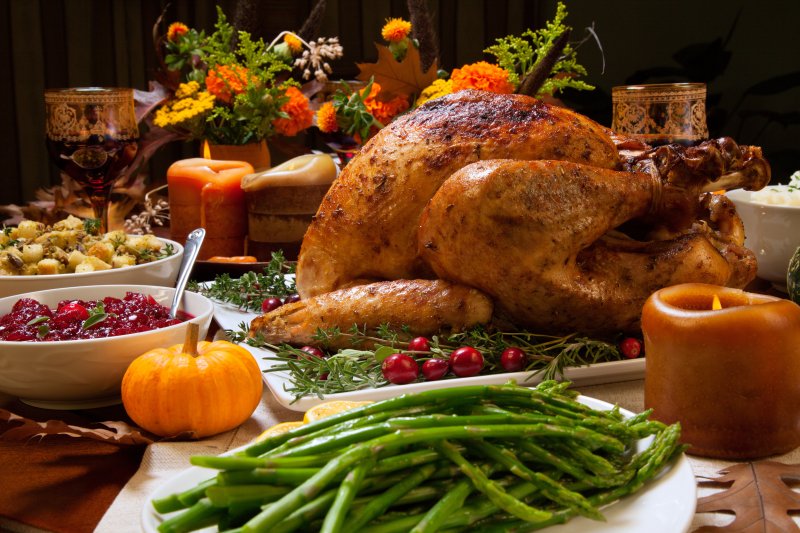 Are you excited about the Thanksgiving festivities? Whether you're looking forward to the parades or catching up with loved ones, one of the main highlights is to chow down on plenty of tasty foods. While many of the staple meals are delicious, some can be detrimental to your oral health. Read on to learn five tooth-friendly tips to help you enjoy a healthy Thanksgiving!
#1: Avoid Grazing Throughout the Day
During the holiday season, it's common to want to munch on all your favorite sweets and treats around you. Though this can be enjoyable, it isn't the best idea for your pearly whites. Firstly, exposing your smile to sugars, starches, and carbohydrates throughout the day can increase your risk of developing dental decay or cavities. Secondly, you won't produce as much saliva as you can with meals, which is essential for washing out debris, food particles, and bacteria from your mouth.
#2: Fill Your Dish with Vegetables
While you shouldn't have to miss out on tasty stuffing, cranberry sauce, and pumpkin pie during Thanksgiving, you should still pick healthier options for your teeth. Make sure to pack your plate with veggies to balance out your meals. These can include cooked carrots, air-fried green beans, and roasted Brussel sprouts, which can contain essential nutrients to promote healthy teeth and gums.
#3: Watch Out for Sugary Treats
Most people know that sugar can wreak havoc on a smile. Overindulging in sweets and pastries can result in enamel-eroding acids in the mouth, increasing the risk of bacteria and decay. For this reason, you'll want to consume these treats in moderation to protect your teeth. Be sure to also drink plenty of water to help wash away any food particles in your mouth.
#4: Be Careful with Hard, Sharp Foods
The last thing you want during the holiday season is to experience a dental emergency. To avoid accidentally chipping, cracking, or damaging your pearly whites, be cautious of hard and sharp foods. These may include chips, nuts, popcorn, and even candies. Your teeth, gums, and other soft oral tissues will be better off for it!
#5: Remember to Clean Your Teeth
After you've munched on a snack or enjoyed a full meal, make sure to thoroughly clean your smile. You'll be able to avoid collecting harmful food particles, sugars, and bacteria that can increase the chance of developing decay or other oral health issues. Simply brush, floss, and rinse with mouthwash once you've finished eating to keep your mouth safe.
During Thanksgiving, you can enjoy a delicious meal without putting your teeth at risk. Keep these few tips in mind, and you'll be able to maintain a healthy smile throughout the holiday season and beyond!
About the Author
Dr. Dana C. Jones earned his dental degree from the University of Buffalo School of Dental Medicine. He is a proud member of several prominent organizations like the Academy of General Dentistry and the American Dental Association. He offers a wide variety of high-quality and comprehensive services, including dental checkups/cleanings, fillings, and root canal therapy. If you'd like to schedule an appointment, visit his website or call 203-438-8919.
Comments Off on 5 Tips for a Smile-Friendly Thanksgiving
No Comments
No comments yet.
RSS feed for comments on this post.
Sorry, the comment form is closed at this time.