May 20, 2022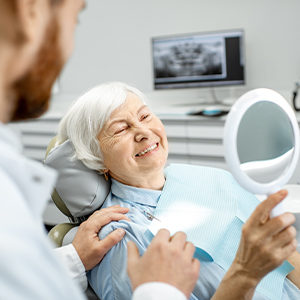 You can't stop the aging process. While you might expect a few gray hairs and wrinkles, you may not have expected to lose your teeth. Besides an incomplete smile, women are also at risk of bone loss as they age, especially after menopause. If you have missing teeth, the effects of menopause don't have to stand in your way of a complete smile. You can replace them with the next best thing to your own using dental implants.
Menopause and Bone Loss
Menopause marks the end of a woman's reproductive journey. The body produces less estrogen, which can make the bones fragile. This is a concern for patients interested in dental implants because they require a strong jawbone.
Bone Loss and Dental Implants
Dental implants differ from traditional tooth replacements because they replicate both the root and crown. A titanium post is surgically placed into the jaw to mimic a root. Therefore, your bone must be strong enough to support it.
If you've lost bone after menopause, you can still be a candidate for dental implants. Bone loss isn't an uncommon issue for patients interested in the treatment, especially if they have had missing teeth for several years.
Losing even a single tooth causes your jawbone to shrink because it isn't being stimulated by the root. You can lose 25% of your jaw's density within the first year of missing a tooth, which will continue to deteriorate as time goes on.
Whether from untreated missing teeth or menopause, your implant dentist can create a healthy framework for your new smile.
Strengthen Your Jaw with Bone Grafting
During your consultation for dental implants, your dentist will review a CT scan of your mouth. They'll check the density of your jaw to ensure it can support the posts. If not, they will recommend bone grafting.
The procedure takes bone from another area of your body or a donor to restore a strong jaw. Although it may add another step to your treatment plan, it will ensure the success of your investment.
After your bone has healed, you will be scheduled for your placement surgery. Once the posts have been placed into your jaw, your bone will integrate with them through a process called osseointegration.
With the right aftercare, like maintaining your oral hygiene and regular preventive appointments, your new smile can thrive for decades.
Complete Your Smile Today
As you reach the end of your reproductive years, you can still look and feel your best. Your implant dentist will create a beautiful, functional smile you will be proud to show off.
About Dr. Josephine A. FranzeseDr. Franzese earned her dental degree at the University of Medicine and Dentistry of NJ and has completed advanced education in many specialties, like dental implants. She is an active member of the Academy of General Dentistry. Dr. Franzese understands the unique needs of patients to create the best smiles. Contact our office today to request your consultation for dental implants.
Comments Off on Can You Get Dental Implants After Menopause?
No Comments
No comments yet.
RSS feed for comments on this post.
Sorry, the comment form is closed at this time.